India: Suicide Series of cotton farmers
India: Suicide Series of cotton farmers
Gajanand Gattawar was desperate, saw no future.
The cotton farmer was in debt - and committed suicide.
As an estimated 200 000 small farmers in India over the last decade.
The cotton farmers in the so-called suicide belt of India must annually purchase expensive, genetically modified seeds, many heavily into debt.
But the returns are not as high as that of the subsidized agro-industry in the U.S. and Europe.
The world market prices are not certainly not enough to live on and to reduce debt.
An expert examination for the Indian Supreme Court comes to the conclusion that the industry has benefited greatly from transgenic agricultural technology, the vast majority of farmers arrived but had no positive effect.
Jürgen Osterhage, ARD New Delhi
It is not only their grief.
There is more.
Despair.
Sorry.
Pure misery
"Help me" asks Sasi Kala.
Mother of three children.
No money.
No husband
No income.
Hardly anything to eat.
A few grains of wheat.
A little bit of rice.
That's all.
Her husband Gajanand.
Cotton farmer.
Suicide.
Three weeks ago.
Because of insolvency.
He did not continue.
"How are we going to survive?
No one helps me.
What about my children?
I have nothing.
Only debt. "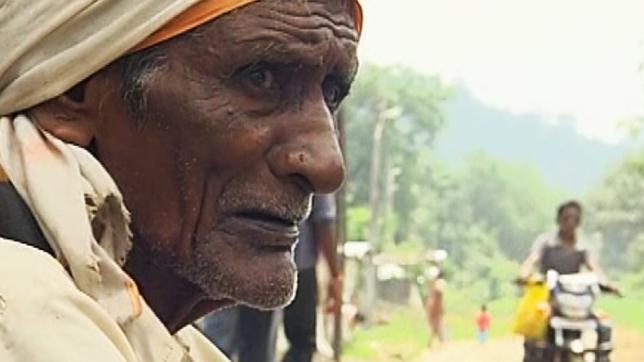 The abject poverty in central India has a name: suicide belt
Vanjari, a village in central India.
A few hundred cotton farmers.
Abject poverty.
The center of the subcontinent.
Here it has a name: suicide belt.
Thousands of free death every year.
I meet Anil Prasad.
TV journalist.
He is working on a documentary for the Indian television.
Of suicides by farmers.
Even the suicide of Sasi Kala `s man he has documented.
Suspended from a tree.
Next door.
In a grove.
"The farmers know no way out.
Of cotton cultivation is unproductive.
Seeds and fertilizers are too expensive.
The yield is too low.
They deserve nothing more. "
The cotton farmers of Vanjari - as Sasi Kala, who tries to survive alone without a man: Loser of the networked global economy.
The Suicides: dramatic result of the unjust distribution of opportunities in global trade.
With wooden plows and manual work against giant tractors and irrigation.
Not only that, against state agricultural subsidies, as in Europe or in the U.S. and low Weltmarktpreisen.Doch addition.
There is no natural cotton more in Vanjari.
Only GM - called BT Cotton.
Every year the farmers have to buy the expensive seeds.
And still expensive fertilizers and pesticides.
"We used to have grown natural cotton," says the cotton farmer Raju Ganpat Rao.
"We have made a profit.
By introducing the gene product BT Cotton cultivation costs have exploded.
But not the income.
That puts us under enormous pressure. "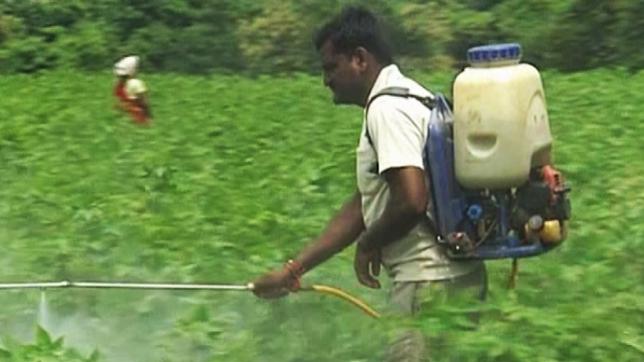 Every year the farmers have to buy expensive fertilizers and pesticides
I visit a store.
On offer: Almost only gene-seed of the U.S. company Monsanto.
Fertilizers and pesticides.
Mainly by global companies Bayer and Dupont.
"In good times, GM cotton is better than natural", says the shopkeeper Kashi Nath Milmile.
"But there bad harvests, the farmers themselves have to borrow money.
The debt is then always greater.
The despair also. "
Ride to the next village.
I experience the capricious nature.
Monsoon.
Heavy rain.
Bad for GM seed, the artificial irrigation is preferred.
I meet Kishor Tiwari.
Activist and lawyer.
The only one in the region, who cares about the fate of the rural farmers.
He shows me tables.
Tells me the drama of the rising suicide numbers.
The farmers are forced to grow expensive genetically engineered cotton.
There is no alternative.
The Indian government wants it that way.
Tell me Kishor Tiwari.
They collect money for it.
Of the multinationals.
"The situation is miserable.
There is no help from the government.
It does nothing.
More and more farmers are driven to suicide. "His office keeps statistics.
An employee shows books.
Three.
Written with full name.
All farmers.
All suicide victims.
"Bt cotton brings nothing but debt, which drives people to death.
If the breadwinner of a family commits suicide, he ended the lives and the future of his family.
This is the tragedy. "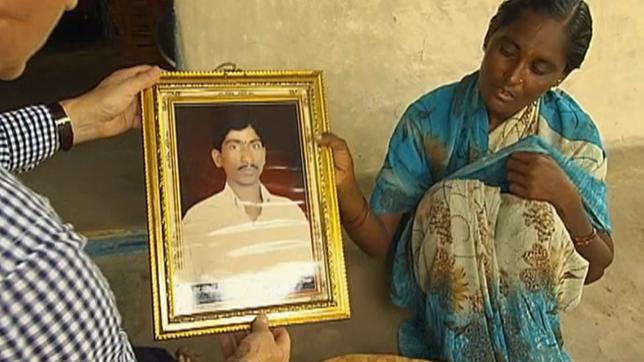 Sasi Kala with a photo of her late husband
Sasi Kala experienced the just.
She is one of thousands of widows.
The cotton farmers are slaves in their own country.
So Kishor Tiwari.
They worked around the clock.
However, the profit would have multinational corporations.
These neo-feudal structures - hand in hand with political power and corruption.
A life with no way out.
Without hope.
Especially for Sasi Kala.
A giant mountain of debt has left her husband.
No chance of repayment.
But worse still: How should it ever survive?
How will they feed themselves and their children?
You do not know.