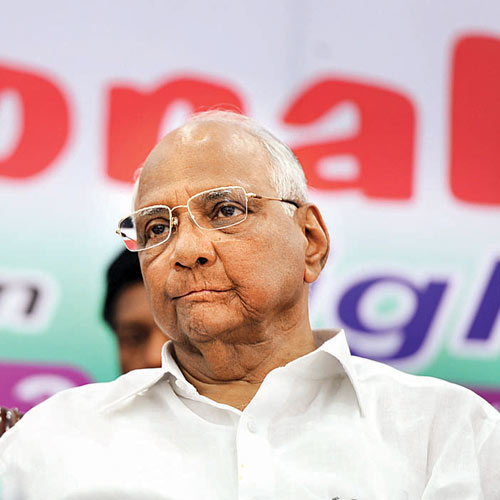 Sharad Pawar
Two more farmers suicides in Yavatmal district, with one from the same village that
Union agriculture minister Sharad Pawar visited
, less than a week after his three day Vidarbha visit "to assess the damage on the ground due to excessive rainfall and subsequent floods" may come as a major source of embarrassment for both Pawar and his party, the NCP.
While Thavru Rathod of Kinhala village (which Pawar visited on September 18th) committed suicide late on Saturday, Shriram Talmale of Salod village ended his life early on Sunday. The toll this year has risen to 635.
Kinhala sarpanch Sudam Pawar who was waiting to collect the body after the post-mortem told dna, "Thavru was landless and leased the plot of land which he was farming. He lost his crops twice to flooding caused by excessive rains and was worried about repaying the debt stacked up," and added, "Pawarsaheb's people said that they will help farmers like him but he realised nothing concrete was coming and took the drastic step."
On Sunday, when four farmers from Vidarbha committed suicide,
Pawar had said
: "I don't see problems in this region being as terrible as [they are] made out to be," while speaking at Pandharkawda in Yavatmal district, the epicentre of the farmer suicide issue.
The hackles that his "insensitive" statement raised has quickly turned to anger in the region which was seething over his refusal to meet the widows who had waited hours outside the guest house to meet him. Vidarbha Jan Andolan Samiti's Kishore Tiwari has already said, "Sharad Pawar's behaviour is in keeping with the feudal insensitivity that politicians from Western Maharashtra, who have ruled the state, keep subjecting Vidarbha to."
The farm suicides which first made headlines in 2005 after GM cotton was introduced, spiralled further after the drought followed by incessant heavy rains this year. The continuing rains have eroded more than million acres of land leaving it unfit for agriculture.
While the divisional commissionerate has estimated the losses inexcess of Rs20,000 crore, Maharashtra chief minister Prithviraj Chavan has submitted a proposal seeking Rs1,180 crore for Vidarbha from the centre.